Blue Bay Shepherd is a new upcoming dog breed, still in the developing stage. This dog breed is expected to be wolf alike with a tainted-blue Hair coat. Blue Bay shepherd got its name from the blend of two words. Blue bay for Palm Bay, Florida, being its birthplace; and shepherd for German Shepherd being its parent breed.
The parent breed of the Blue Bay Shepherd dog is a German shepherd which is a popular medium-sized dog breed, which originally bred to herd sheep. So It's Average height and weight are similar to that of German Shepherd dogs
Behavior
Blue Bay Shepherds are beautiful, intelligent, friendly, and highly engaging dogs. Their Looks are extremely astonishing with blue eyes and blue-tinted Fur coat. They are extremely brave dogs with a great amount of curiosity. If you are an avid trekker or traveler, They could be the best fur companion walking beside you wherever you go.
When Blue Bay Shepherd dog will be available for sale?
Definitely, who would not love to own this incredible dog breed? But According to its founder Vicky Spencer, Blue Bay Shepherd breed is currently in the development stage and not available for sale. So if you happen to see any dog seller who claims to have a Blue bay Shepherd for sale, they are most likely fraud. Currently, the sale of the blue bay shepherd dog apart from the breed founder is non-existent.
Vicky Spencer is working to develop this breed for over 20 years, Experimented with European German Shepherds imported from France with the bloodline of dogs from Germany and Holland.
His goal and aspiration is to develop a dog of wolf ancestry with a blue coat and light eyes and which would have a pleasing personality, willingness to be trained and he is working to achieve his dream for 20 years now
As German Shepherds possess similar traits of a wolf, he's been experimenting with pure blood lines of German shepherds to a develop a blue-coated Shepherd dog.
The First litter of Blue Bay Shepherd was produced in the year 2011 since then continuous improvements have been made to develop a dog with extremely good health, trainability, willingness to please, friendly nature, and with the beautiful appearance of their wolf family line.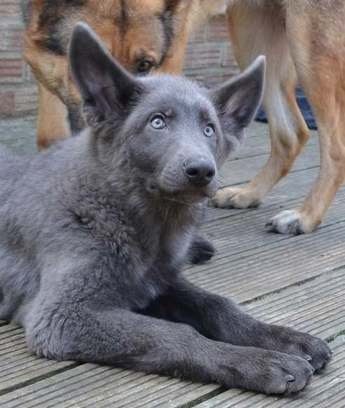 As Blue coated animals are extremely rare, the founder of this new breed expressed his difficulties in developing one.
All Blue Bay Shepherds are registered formally with canine registrars. They are provided with certificates with unique identification numbers. If you happen to see a person selling this breed without a valid certificate, they are most likely not a genuine one. Currently, this breed is very limited in numbers, available only in very few hands. Also, it requires two blue bay shepherds to produce a similar breed otherwise it is a crossbreed.
Where to get Blue Bay shepherd puppies for sale?
If you want to buy Blue bay shepherd puppies or need more information about this breed of dog, contact none other than the breed's founder @ [email protected]